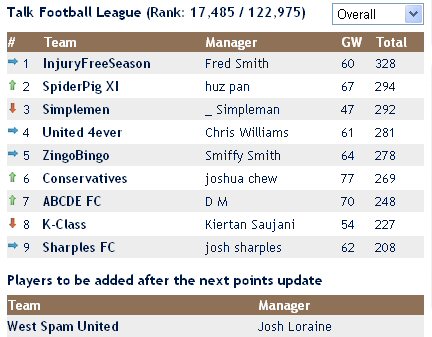 There is no doubt when looking at the fixtures for week 6 there was a lot of room for high scoring by all teams as many of the top sides found themselves up against weaker opposition.
The thing is with fixtures on paper, what seem to be easy games to score points sometimes have a way of biting you in the backside.
There was no such trouble for the managers of the Talk-Football Fantasy League.
When I say the average score throughout the fantasy premier league site was 48, and everyone of our managers got a score above the average bar one (and that manager missed out by only 2 points), you should all give yourselves a big pat on the back.
There are 123,000 different leagues at the site and we are now ranked 17,485, which means we have leaped over 2000 places in one week.
Well done Managers!!!
So with all these points floating about, who were the major winners n losers in the table.
Well I can report that the writer of these words is starting to feel like how Eric Bristow must have felt when he introduced Phil Taylor to the world of professional darts. As you all know Taylor became the king of darts and after my insisting the manager of SpiderPig XL keep at the fantasy league as he was starting to make noises of having enough after a disappointing start. 3 weeks later I now have the song "Whats this coming over the hill, is it a Monster is it a Monster" embedded in my mind as the SpiderPig XL gain another place up the league and find themselves in 2nd.
It's a brilliant turn around of form by them and when you look at his side this week it looks like its been pebble dashed with a number gun. Skrtel Rio and Boswingwa all gained clean sheets. The latter also chipped in with an extra 6 points for his goal (that was going wide and was put in by the defender! Own Goal??)
25 points from 3 defenders is a superb return, so when other players chip in with 3 more goals and a couple of assists you soon have a weekly total of 67 points.
SpiderPig's gain is Simplemens loss as they had the quietest week of all in the league.
Its not that the manager of Simplemen didn't try to freshen his team up. He actually used his wild card and made a number of extremely difficult choices, none more so than the dropping of Torres for Adebayor. One can only imagine the look on this managers face as his Liverpool scored twice in the Merseyside derby. Two goals from… yes you guessed it.. Torres must have given the Simplemen manager mixed feelings. With Adebayor being made captain for the weekend his assist points were doubled up bringing 10 much needed points to the total. Lampard's assist and bonus also brought just one less than the captain. Laursen and new signings Kompany n Reina also brought in extra points.
United 4ever stay in 4th after a much improved display at the weekend and but for a mistake in giving out his captain armband the total would have been 11 points higher.
For some reason Red decided against giving Ronaldo the captaincy after we had all spoken about he only had to walk on the pitch (and dive?) to get the 3 bonus points. Sure enough he did a bit more than just dive and got those 3 bonus points. Elsewhere United 4ever had points coming in from all over. Another to benefit from the Boswingwa wide shot, they also had goals from Zaki and sub Rooney. With the latter being made sub for the Bolton game it may mean another trip to the transfer window for this manager. There is no doubt that Zaki of Wigan has been the forward of the season so far and this manager along with a couple of others in our league did very well to take him for the much cheaper price he was a few weeks ago.
One of those managers is the ZingoBingo's. Zaki brought 9 points to their total, but the star was Frank Lampard who's captaincy brought 18 points to their weekly total of 64. Torres and Ashley Young both scored goals too and when you look to see that the 4 players in defence only managed 7 points between them, this could have been a much higher total. Leaving Deco on their bench is an interesting choice as a bit of wheeling n dealing in the transfer market may improve the squad while he is injured. Geovanni on the bench again cost them a goal. Geovanni is proving to be a difficult player to get right as his Hull manager leaves him on the bench 3 games in 6.
The weeks top scores were Conservatives. Only 3 of their players did not score more points than their appearance points and their 2 Chelsea players returned 31 points. All 3 forwards scored and all defenders and keeper kept clean sheets. It's a brilliant effort by this team who the spotlight will fall on later. 77 points is the highest weekly total for out league so far. Well done!!
ABCDE FC also broke the 70 point barrier! The week after this manager used his wild card he has got the first huge return from Ronaldo and his new forward line. Defoe Adebayor and Zaki all chipped in with extra points, but like this manager's fellow Man Utd fan Red, he decided against giving Ronaldo the armband. Still Lampards sublime display at Stoke ensured they got good return from their captain. Diarra's sending off cost them 3 points and there was no extra points from the defenders, but on the whole this manager should be very pleased with himself and the moving up one place in the table.
There has to be something amiss when your team gets 54 points in a week and you end up moving down the table. This is what has happened to K-Class who had a great week in finding points with the consistent Adebayor Lampard and Zaki all bringing heavy points to the total. Clean sheets from Evra and Carragher also boosted the total. It has to be brought to everyone's attention how unlucky this manager has been in the transfer market. He sold Deco for Joe Cole 2 days before it was announced Joe is out for a week.
He may still be bottom of the league, but there is no doubt the manager of Sharples FC knows what he is doing as another strong week has him poised to leap off the bottom. Of all the managers who traded for Ronaldo this one had the right idea in making him captain. 28 glorious points from a player who obviously makes the difference in united's side was a great way to start the week. Goals from Santa Cruz and Valencia added another 12. Cech's clean sheet was very handy and even Adebayor managed a assist in Arsenals lack luster display against Hull. It has to be stated that this manager was again busy in the transfer marker with 5 transfers costing him 16 points. It took some wheeling n dealing to fit Ronaldo in, but in time I am sure it will pay off.
Still at the top showing a consistency that takes some believing is InjuryFreeSeason, but with the "Monster coming over the hill" this manager has some decisions to make if he is going to stay ahead of the chasing pack.
Spotlight falls on Conservatives.
There is no doubt that over the season so far this manager has been tinkering away trying to find the best formula to help his team up the table.
There have been 11 transfers so far with players like Adebayor Vidic Ashley Young and Barry all being moved on at one time or another.
With that said when the spotlight falls on the team they produce a record number of points (77) and see themselves moving back up the table.
Petr Cech is currently their preferred keeper who is soiled and should consistently produce a base of points. The ever popular Schwarzer is a safe 2nd choice in this position.
Across the back this manager has been able to put together a excellent 5 man group that on their day can all make good points. Rio Carragher and Bosingwa all play for the big 4 clubs so should find their way to many clean sheets, but not only do they have these 3 he also has Lescott who was a licence to print points last season and well known for getting bonuses he don't deserve and the becoming very popular cause of his cheap price Figueroa of Wigan. I happen to think this is one of the very best defences I have seen.
The midfield is again very strong with Denilson being a huge suprize package in the middle of the Arsenal midfield, plus the carefree Shaun Wright-Phillips lapping it up back in Manchester also finding points as easy to come by as free space in defences marking city forwards. Arteta is another very consistent force in finding assists as well as being a penalty taker. Frank Lampard is proving to be his usual self and the loss of Rory Delap to a pulled hamstring (Didn't know there is a hamstring in a arm hehe) might mean the midfield will be a bit light over the coming weeks.
Zaki is so popular now that his price has gone up by 600, 000 since the start of the season and is the top points scorer among the premiership forwards. Although this manager didn't have him in from the start of the season, he was savvy enough to get him at 6.1 before the tidal wave really soaked his price. Add Defoe and Carew to the Conservatives frontline and you have 3 of the most inform strikers in the league.
Its taken a bit of time to get there in the transfer market, but there is no doubt this team is very strong and I fully expect it to soak up all the points over the coming weeks. You only have to look at the teams finances to see how strong a position they find themselves. The team value is 102.2 million with .3 million left over in the bank.
Just like the Party the team is named after…. Money to Money no matter who they take it from