Game week 5 has come and gone with the average score of all leagues only 37, it was a week when any score well over that total would see your team make good progress up the table.
Our leagues top scores was bottom club n newbies Sharples FC who had some good luck and bad in their weeks total. They lost Deco right before the game who was their captain, so to get 52 points without the captain double points is a fantastic feat. All of Sharples forward line chipped in this week, plus 3 defender clean sheets helped boost the total. The good luck came in the form of Figuero of Wigan being promoted from the bench for the non playing Deco\Geiovani.
Sharples FC are now only 16 points from overhauling ABCDE FC who had a magnificent return from their captain Adebayor. He's 8 points were doubled up to 16. Their problem was they got very little else from the other players. I notice that ABCDE FC only had 2 players playing at home this weekend. Next week could be their week after I notice they have played their wildcard. Spotlight falls on them later in this weeks report.
The Conservatives dropped another place in the league in a week when they got a couple of clean sheets n 2 assists, but not a lot else. They too suffered the loss of their captain in Deco, but like Sharples before them Figueroa came up trumps from the bench and brought in 6 points for the clean sheet. The decision to leave Carew on the bench was a killer. His goal and 3 point bonus would have brought another 8 points to the Conservatives.
K-Class pulled of a stroke of genius by making the Liverpool Goalkeeper as his captain for the week doubling up what most saw as a banker clean sheet at home to Stoke. Dossena chipped in with his clean sheet points from the same game and K=Class was well on the way to a good total. However, this is where the bad luck started to kick in. Another to lose the services of Deco, K-Class also missed on Ball of Man City not playing in the mauling of Pompey with another clean sheet. Ireland and Arteta again popped up with assists bringing a total for the team of 38.
ZingoBingo manager was very busy in the transfer market before this weekends fixtures. With Liverpool at home to Stoke he decided that Torres and Riera would be likely heavy points grabbers this week. So trading for them and taking Wigan hotshot Zaki for Michael Owen, it was fingers crossed that Liverpool performed. Alas as we all know Liverpool were firing blanks and Zaki didn't trouble the Spurs net all game.
Stationary in 4th place we have United 4ever who had another quiet week. With their 3 Man Utd players all getting booked, plus in what might be the most suprizing 3 point bonus of the season so far going to Berbatov, they had an up n down week. Melchiot was a clean sheet and Ashley Young picked up as assist, but elsewhere their was little in the way of points. With Ronaldo back now and no doubt a constant captain for United 4ever, we should see better totals coming from them in the future and you can be sure the fools that give out the bonus points will reward Ronaldo no matter what he does.
In what is turning out to be a bit of a fairytale couple of weeks, the SpiderPigs are like a sponge soaking up points from all area's. This week Santa Cruz set up the Blackburn winner bringing assist points to double up to 10 points. Adebayor with 8 more points after his transfer and another last week transfer Malbranque also bringing 8 points to the party. Clean sheets from Skrtel and Melchiot boosted the total even more. Only Downing's penalty miss was a step back in a total of 49 points. The SpiderPigs are now in 3rd place after jumping over ZingoBingo and United 4ever. Simplemen n InjuryFreeSeason watch out!
Staying in 2nd place are the Simplemen who suffered from the Pompey mauling more than most. James had all his points washed out and Distan ended up with minus points. Simplemen continued to get excellent points out of Ireland of Man City and Agbonlahor chipped in with his first goal since opening day. With only the one transfer by the Simpleman since the start of the league, it will be interesting to see how this manager kicks starts his team again after too quiet weeks. Any exciting plans ??
InjuryFreeSeason stays top with a points total of 35 this week mainly cause of Adebayor and Agbonlahor. The 14 points they brought to the total were the main reason the total got over 30 points after the gamble on taking Andrews of Blackburn failed to pay off any better than the player he replaced.
Spotlight falls on ABCDE FC.
When you first look at ABCDE FC's squads since the start of the season you wonder how the hell they are so low in the table. Players like Torres Santa Cruz and Deco have all worn the ABCDE FC shirt this season, yet they find themselves nearer the bottom than top.
The current side as Petr Cech in goal who should in time produce plenty of clean sheet points and with everyones fav reserves keeper Schwarzer his under study this manager has a solid base.
In defence it seems the manager has bite the bullet to enable him to have more expensive flair players further up the field. Glen Johnson and Luke Young are two defenders from sides in the 2nd tier of the premiership with Figueroa of Wigan who is becoming ever popular with managers making a 3rd defender who should gain points over the season. Davenport of West Ham and Steinsson of Bolton are players I see as filling gaps in the squad that this manager could afford.
Its in midfield where ABCDE FC start to spend big and hope to cash in on the "mane" players. Ronaldo is a massive outlay in this seasons fantasy league based on his freak season last. He broke all records last season with the points he won and it would be some feat if he did the same this. You can be sure bonus points will come flying his way. Frank Lampard is a licence to print points in my book and its good to see this manager take him. I also like the signing of Valencia of Wigan who is said to be on a few bigger clubs shopping list just after Xmas. While Diarra of Pompey is a excellent young player, he does play the holding role which means he wont score as many as a more free flowing midfielder. Rory Delap is another who is proving to be very popular as his long throws are gaining him a lot of airtime.
Up front they have the 3 in form strikers in the premiership. Adebayor Defoe and Zaki have all scored high points in the first few weeks and I expect them all to be safe strikers over the coming weeks.
I don't think there is anything wrong with this squad of players. They just need a bit of luck to come their way to see them rising up the table.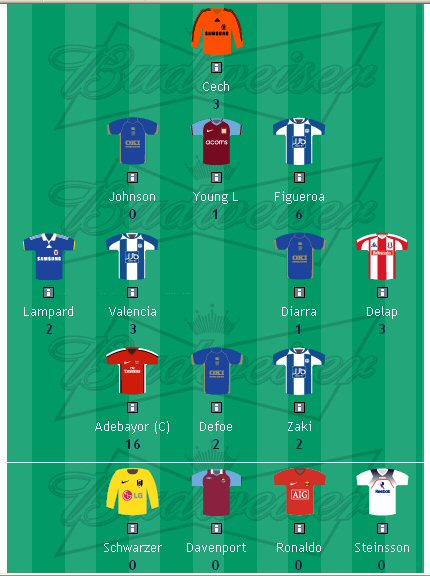 I would pose this question to the manager of ABCDE FC and all others who have taken the plunge on Ronaldo at 14m. Don't you think the Fantasy league have tried to out price him this year? You can have Arteta and Valencia among others for the same money.