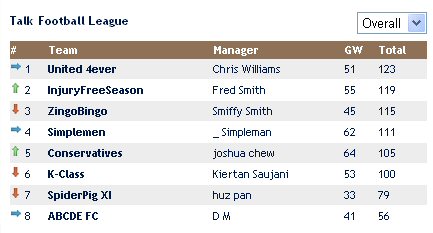 Week two of the season is over and Red still leads the way with 123 points, Injuryfreeseason and ZingoBingo traded positions in the table, but there is very little between them.
The big point scorers this week were Simpleman and Conservatives.
Simplemens captain Steven Gerrard brought his team 14 big points to set the team up for a 50+ points week. Two key defenders Lescott and Laursen brought in 8 n 7 points respectively, but it was the inclusion of Steven Ireland from the start by Mark Hughes that enabled him to make two assists and bring another 12 points to Simplemans total. Ireland was a brave pick to include in his team by Simpleman as he never started last week.
Conservatives had Deco as his captain and again the little midfield maestro returned a wonderful points total of 22. When you have that as your start and your defence\keeper all make extra points, you have a team that is solid and consistent. The Conservatives back 5 brought in 32 points without a goal scored between them. If they can sort out a front line that chips in with a few goals, the Conservatives could be a huge point making machine.
Well done to both managers!
K-Class had another consistent week and it shouldn't be long before it hits the big time with weekly scores in the 70-80 point mark. K-Class have a very talented and young midfield that on its day could bring them many riches. It must be said thier 3 main defenders all scored well this week too.
Meanwhile down the bottom and looking to be champions of the wooden spoon North West are SpiderPig and ABCDE FC.
Now we all know these two managers have a good wealth of football knowledge as they are well known for chipping in with their thoughts on most subjects, but I for one find it suprizing they have fallen behind.
Come on Guys!!!.... You can do better!
Spotlight falls on Simplemen.
When you first take a look at the simplemen the thing that first takes your notice is the two best Liverpool players sticking out like soar thumbs. Gerrard and Torres, thou expensive will both be point grabbers all season.
Because of their cost its probably one of the reasons why there is a lack of Chelsea n United players (That and Simpleman being a Pool supporter lol) so the rest of the squad is made up of what would be called 2nd tier players.
Going for James in goal falls in with James being the top keeper last season... this was only because Cech was injured for 12 games and the United keeper was rested in a few of the non event games during the season. With that in Mind and James costing the same as Cech for instance is does make you wonder if James will be as good a point grabber as last season. Now Barry looks to be staying at Villa…. A move for Reina might be on the cards?
The defence is solid Gallas Lescott and Laursen are all 6m+ defenders who all have a nack of scoring a goal from time to time. Distin will score with James whenever Pompey get around to keeping clean sheets again. Barnett is the cheap defender that makes up the 5.
I like the midfielders at Simplemen's. Barry is a penalty taker and looks like to be staying at Villa. Gerrard is top class and Garcia is looking to be a steal from Hull city. Steven Ireland is an excellent sleeper found by Simpleman and could be a major player for them if he gets enough airtime at City. Davies of Fulham makes up the midfield.
Up front we have Torres and Agbonlahor. The latter has already scored a hat-trick bringing a wonderful return for the 8m spent on him. There is no doubt that it would be very interesting to see these two players play with each other in the flesh.... you reading this Rafa?
Miller of West Brom makes up the squad for the Simplemen.
A good squad of players who on their day could be a handful for anyone in this league of ours.